Residents enjoyed their bus trip to the Ska-Nah-Doht Conservation area to view the magic of lights showing. It was truly amazing and several trips were planned to go back before they were gone. Along the route to the lightshow, residents were able to see the countryside along the way and appreciated all the outdoor decorations and lights as well. Doreen Getty, John Marshall, Brenda Allen, Norman Fenn, Barbara Driscoll and Connie Peterkin were on one of the bus tours.
December was a very busy month at Babcock Community Care Centre. Residents appreciated all the gifts, flowers and visits during the holidays. The staff enjoyed a Chinese dinner along with a delicious helping of several varieties of cheesecake. Each one received a bag full of chocolate treats and candy to take home. Thank you to Jin's Wicked Wok for going out of their way to allow management to purchase individual dinners for all the staff and keep our facility in compliance, with all the Covid regulations in place, regarding group party gatherings.
Dan Davidson entertained residents and provided them with musical instruments such as shakers, bells and blocks as they sang Christmas tunes. Everyone had a great time! Snow Globe making was a great project for those residents who wanted to make and design their very own. Activity staff handled the hot glue gun part and assisted each resident in their creations. The end results were amazing.
Crystal and Ryan St.Denis entertained residents with many of their favourite Christmas songs. The program involved some funny stories and placed everyone in a great Christmas mood. Rich, Gord, and Don played the maracas while Doris and Barb rang the bells. Staff and residents joined in dancing and several pictures were taken of the great time everyone was having. When this ended everyone moved to the large windows to watch a choir visiting and performing Christmas carols. Approximately 20 performers arrived by bus. Everyone noticed the many Christmas hats and outfits they were wearing. Everyone truly appreciated their visit. Thank you to each and every one of you!
Bingo was played several times over the holidays. Residents enjoyed the piece of wrapped Christmas cake purchased from Park's Blueberries. It was delicious. Birthday wishes are given to Jimmy Every, Clara Aulis, Norman Fenn and Wilfred Driver who celebrated their birthdays in December. Congratulations to Clara Aulis and Joe and Wilfred and Donna Driver who celebrated their wedding anniversaries in December. Randy Grey visited and entertained residents with several of their favourite Christmas songs. He gave a history of the songs and mentioned the song "Joy to the World" is 300 years old and "Silent Night" is 204 years old.
The gingerbread house draws were made and Joan Kennedy and Dr. Parnell were the lucky winners. Michelle won the best costume, dressed as a Christmas gift.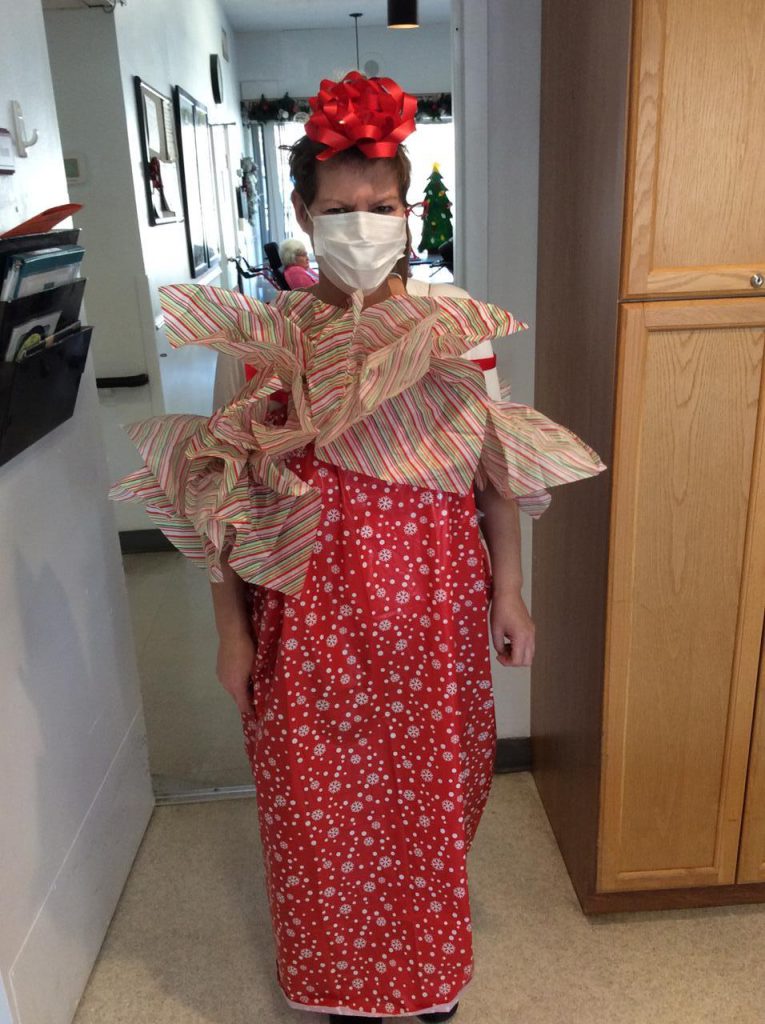 Management has purchased a new piece of equipment for the Activity department called the Mobii interactive projector. We will provide more details about this after residents are given an opportunity to use it.
Residents had a fun time with the program called Drumfit. They beat the drums using drum sticks as they try to keep beat with the music playing in the background. It keeps the body moving. The "Poke a Tree" game was awesome as residents poked their fingers in the decorated tree cups and pulled out chocolate candies, candy canes and money.
Residents had a great time at Happy Hour. They drank mock Caesars decorated with celery, pita chips, salsa, cheese sauce and pickles. Snowman Toss was another fun game with two teams. Several residents watched from a distance. The Book Club met and Frances Bell read short stories to everyone.
Mary Wootton played a selection of Christmas songs for her sing-a-long program. Residents are able to use their Bingo winnings if they choose to purchase items off the Tuck Cart provided. On this cart are self care products as well as chocolate treats and candy, along with several other items. Residents also enjoy their movie nights along with popcorn and refreshments.
The Christmas decorations are coming down and placed in storage for next year. Residents appreciate their one-on-one visits. Babcock Community Care welcomes Connie Peterkin, Tom Moorby and Barbara Driscoll as their newest residents.